In April 2013
I wrote
about the net migration and it's effect on Norwegian home prices. I have mentioned earlier that there is a strong belief in Norway that not enough new homes are built to meet the demand for housing. This argument is used so often in media that it has more or less become
"conventional wisdom"
. The underlying forecasts of high future demand are mainly based on assumption of continuing high net migration.
Steinar Juel from Nordea Bank is among the few who have questioned this conventional wisdom. In a
report from Oct'13
(in Norwegian), he takes up the rising amount of homes for sale as one indicator of a supply that meets the demand, and also points, like I did, to the volatile net migration.
Per Jæger of the homebuilders' assocation Boligprodusentene is pointing to yearly population growth of around 60 000 to 70 000, of which around 70 % has been due to net migration, and
says that we should be building around 38 000 homes per year
(and again adds that
"it's illogical to think that home prices will fall"
). Here he naturally needs to make an assumption on the household size. While the average size of a household in Norway is 2,2 persons, it is clear that migrants with lower income live in bigger households. Chris McDonald of Reserve Bank of New Zealand has found in
his study
that one additional house is build for around every
six
migrants in New Zealand. The actual number doesn't need to be even close to this high to make the assumptions of homebuilders questionable.
But that's not all. Today we got a
report on population trends in 2013
from Statistics Norway and here's the updated "hockey stick":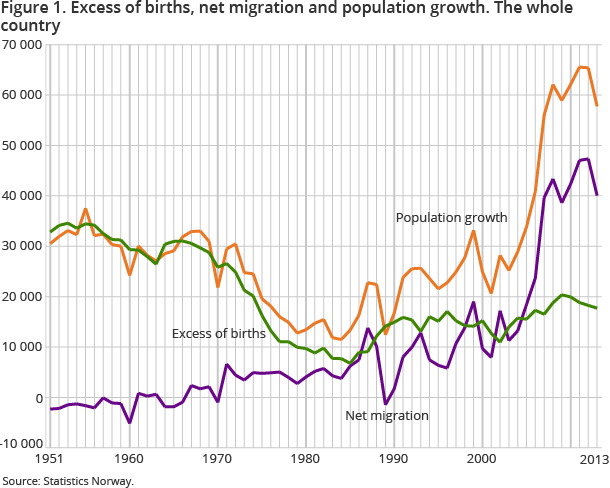 SSB writes:
The population growth was 1.1 per cent in 2013, which is the smallest percentage growth in Norway since 2006. Net migration from abroad decreased by 7 200 from 2012 to 2013 - down from 47 300 to 40 100, and this is the lowest since 2009.
The implications of lower population growth on housing demand can be significant. There is an impact both directly and indirectly (through lower demand for rental units) on the amount of home buyers in the market. Polish and Lithuanian citizens are the two largest groups of immigrants. Many of these occupy jobs related to construction and home repairs/maintenance. As the housing starts started to fall only in the end of 2013 (down 17,5 % year-on-year in Q4'13 and a whopping 37 % in Jan'14!), we don't yet see the real effect of a most likely negative job growth in the construction sector in the migration statistics. If the new home sales and housing starts don't improve soon, there will be little doubt about which direction the population growth will go in 2014.
It might be that 2014 will be remembered as the year when the big story of housing deficit (
boligmangel
) was finally buried?